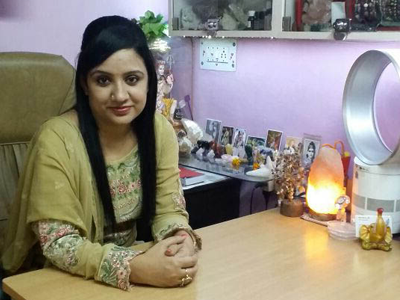 Dr. Sangeeta Kapoor (Phd AM) ) is Grand Master, Magician, Life Coach, Healer, Tarot Card Reader, Teacher and Guide of Alternative Healing Science and Spirituality. She has been started with Healings, Reading Tarot Cards and Teaching Spirituality & Healing Techniques Professionally in New Delhi for the last 15 years and continues to do so from her "Healing Research Center" in South Delhi and now in Gurugram Haryana. Her Clientele and Students are from all walks of life from all over India & all over the world like Canada, London, Germany, Australia, Behrain, Dubai etc and she Read Cards, See Clairvoyant, Read Aura, Predicts, Counsels, Heals and Taught till now to Lawyers, Doctors, IAS Officers, Ministers, Real Estate People, Teachers, Astrologers, all Professionals, Business People, TV Producer & Director, Men, Women, Children, Students and Couples, she conducts Individual as well as Group Sessions, Readings and Teachings.
About me
Hi,
I am Sangeeta Kapoor, I born in a family who believe in strong family values, I started doing Magic shows as professional magician since when I was just 7 years old. I belong to a family of magicians, Three generations of magicians in my family, where all are magician and we know magic is all about tricks.
How I get into Reiki & Energies
Once I got the chance to experience Reiki when I was in school and my friend gave me reiki for my back pain. I felt very warm touch on my back. After Reiki Touch Healing Session I was much relaxed and there was no pain so I asked my friend "where are the heating pads" and she told me that was not heating pad that was just her normal hands and I was shocked and started touching her hands and was trying to understand how can someone's hand be so hot or warm? It was amazing experience and hard to believe for my kind of logical person. I asked her what is this how you made your hands so warm she said this is Reiki…
From there I started researching on this subject, frankly initially I was thinking that is again a kind of trick. So I started learning Reiki Healing to understand how healing works and I found It is Amazing, Miraculous Divine Blessing Reiki and All Modalities Really Works!!
How I came into Healing of Others
After learning reiki I started getting positive & amazing results of Reiki healings in my family. Once I visited one of our family friend's shop with my mom and he shared that his wife is suffering with stomach pain and they had to visit hospital almost every alternative days with big bills all the time because doctors has to give her strong injection to subside her severe pain. All reports were normal and doctors started saying that there is no physical pain and she is only assuming pain in her mind, so next time doctors gave her water injection just to ensure her that doctor has given her medicine so now pain will go but this time there was no relief in pain. Uncle was very upset and he came to know from my mom that I know reiki and he requested reiki for his wife. I did healing for only 21 days and by the grace of god there is no pain again till date. God bless her! I was amazed with the results so I started research on reiki and I started learning different healing modalities like Pranic Healing, Karuna Reiki, Ascension Reiki, Magnified Healing, Lama Fera etc and all techniques which ever was coming in my contact just to understand the difference between all healing modalities and depth of them. I met many healers & teachers with lot of questions on how reiki or energy exactly works and so many if's & but's. I was searching for a Real Teacher/ Guru who really has deep knowledge and answer my queries… From there I realize there should be a place where anyone can get complete knowledge under one roof and "Healing Research Center " born where my target is to explain how energies works & heals.
Healing Research Center and Special Courses
After Learning all healing techniques I found with information and practice in healings that there are similarity in few modalities and few techniques are very useful and helpful in speedy & effective amazing results when combined with other modalities then I started designing new special courses which are combination of different modalities which can be used together for great results and understanding.
How I Become Tarot Card Reader,
When I was researching on energies I had deep curiosity for tarot card, how they work? How a person can predict someone's past and future with just opening of cards? I bought a deck of osho zen cards and I started spending time with them and frankly in starting I did not had a belief in them but with time I started connecting with them and receiving direct guidance and teachings from divine. Once I was sitting with my friend she was going through a difficult time of her life and just to give her ease I opened her cards and predicted a date and she said that my prediction will not be true because of some practical reasons. I again checked and said I am getting this date only and if this happen on my predicted date then do let me know and after that day I forgot. After approx 3 months in march she massaged me that " How can tarot cards be so true?" she was shocked and even I was shocked on tarot cards prediction. Later I got guidance to included tarot card attunement in my tarot card reading course.
How I got to know I am clairvoyant
I learnt healing techniques from many masters and I used to to see few astral things but when I got attunements of Ascension Reiki from "Leslie and Jayson", it was long attunement and that was the time when I started seeing very clearly with my opened third eye and with my closed physical eyes. In this learning process I met one of my Guru "Acharya Arunanad ji" and he saw me seeing all astral beings and energies so he told me this quality is known as Clairvoyance. He used to to ask me what I have seen while attunements done by him and how angels are working when we both did experiments and do angel healing and whatever I see I used to to tell him and he used to to justify by saying yes this is same written in next line. Later I started scanning clients by just looking at them, telling locations, giving description of people and I still feel amaze and shock when I share what I see and other person says yes you are right!